Geodesic Buildings. The perfect dome solution for outdoors party or festival.
In 2002 Richard, the founder, assembled his first 3 meter geodesic dome in his garage after weeks of calculating the required dimensions and quantities. Now, almost a decade later, in partnership with Stuart the engineer & welder, they offer some of the best domes that money can buy.
Geodesic Buildings specialise in all things geodesic dome related. The company, based in Coin on the Costa Del Sol, Spain, supplies their services and domes in almost all of Spain. If you want to know more about how to use geodesic domes (aka Geodomes) or get a direct quote, please use these links here below.
Links
Geodesicbuildings.com | Contact | Google map

Special offer:
When you buy or rent from Geodisc Buildings remember to mention that you found their service here at Qubenzis.com. Richard promised me that he then will give you a price reduction.
🙂


Types and Sizes..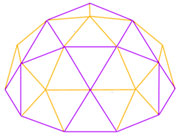 2 Frequency Geodesic Dome
This dome has 65 poles of 2 different lengths and is half of a sphere.
It's uses include tents, greenhouses,
climbing frames and garden shelters. It is simple & quick to assemble.
This dome has 165 poles of 3 different lengths & is 5/8 of a sphere. The extra skirt at the bottom gives it greater height.
Removing the skirt makes it 3/8 of a sphere which means it has 120 poles. This dome has many more uses because of the height such as aviaries, party, concert, festival chillout or small bar or café
This dome has 250 poles of 6 different lengths & is half of a sphere, making it a much more rounded structure & giving it extra strength.
The uses of this dome are as the 3 frequency but the extra strength means it can be much bigger.
Click any of the images to see enlarged Slide Show
Click here for Slideshow
Good Sound Experience!
The Psycho Acoustics are enhanced inside a dome. Great for music!
I.e, with a 5 way or 2 way stereo speaker system, evenly placed along the inner walls reproduce an excellent sound experience inside the dome.
For an even better sound experience you can mount hi frq. tweeters evenly along the upper circle of the dome, about 2 1/5 m from floor level.
The sound of acoustic music is equally enhanced by the dome structure. Try it…
Any type of music will take advantage of the inherent sound acoustics of a geodesic dome. Enjoy!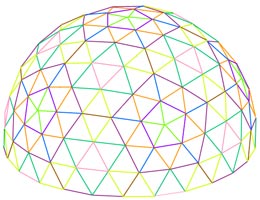 5 Frequency 5/8 Geodesic Dome
This dome has 425 poles of 9 different lengths & is 5/8 of a sphere, meaning that it is much more rounded & stronger for larger structures.
Uses for large domes like these are many and limited only by your imagination, concerts, night clubs and parties, corporate events, living spaces, aviaries or animal enclosures, storage space etc. etc.
Geodesicbuildings.com | Contact | Slideshow